The Elton John AIDS Foundation has reunited with Marmite to launch a second limited-edition jar, inspired by the 50th anniversary of Elton John's critically acclaimed 'Goodbye Yellow Brick Road' album and iconic artwork.
It's no secret that our Founder is an avid Marmite lover; eagled-eyed fans spotted an impressive collection of the beloved yeasty spread in the background of Elton's birthday photo in 2021. The photo was the start of a collaboration between two British icons, with the first Elton inspired 'Rocket Man' jar flying off shelves in just a few weeks in 2022.
The launch of the 'Goodbye Yellow Brick Road' jar marks the beginning of a new three-year partnership through 2025 between Marmite and the Elton John AIDS Foundation; with Marmite donating $1,000,000 to help the Foundation continue its work to provide life-saving treatment and care in the UK and around the world to those most at risk of HIV and AIDS.
The unique 250g jar's label is inspired by the 1973 album cover and features Elton stepping onto a 'Yellow Brick Road' wearing a pink bomber jacket embroidered with his name. The limited edition, exclusively available from Sainsbury's stores across the UK, is made with the same great taste you love or love to hate.
This week, in celebration of the jar's launch, Marmite will travel to Windsor, the hometown of Elton John and David Furnish, to surprise residents with a breakfast delivery fit for music royalty. The feast will begin with toasted rye sourdough with a lick of salted butter and a light spread of Marmite. Two large soft-boiled eggs – simmered for no more than six minutes – a glass of freshly squeezed orange juice (without the bits!) and a strong cup of English Breakfast tea: the iconic Marmite serve to celebrate the partnership of two British icons.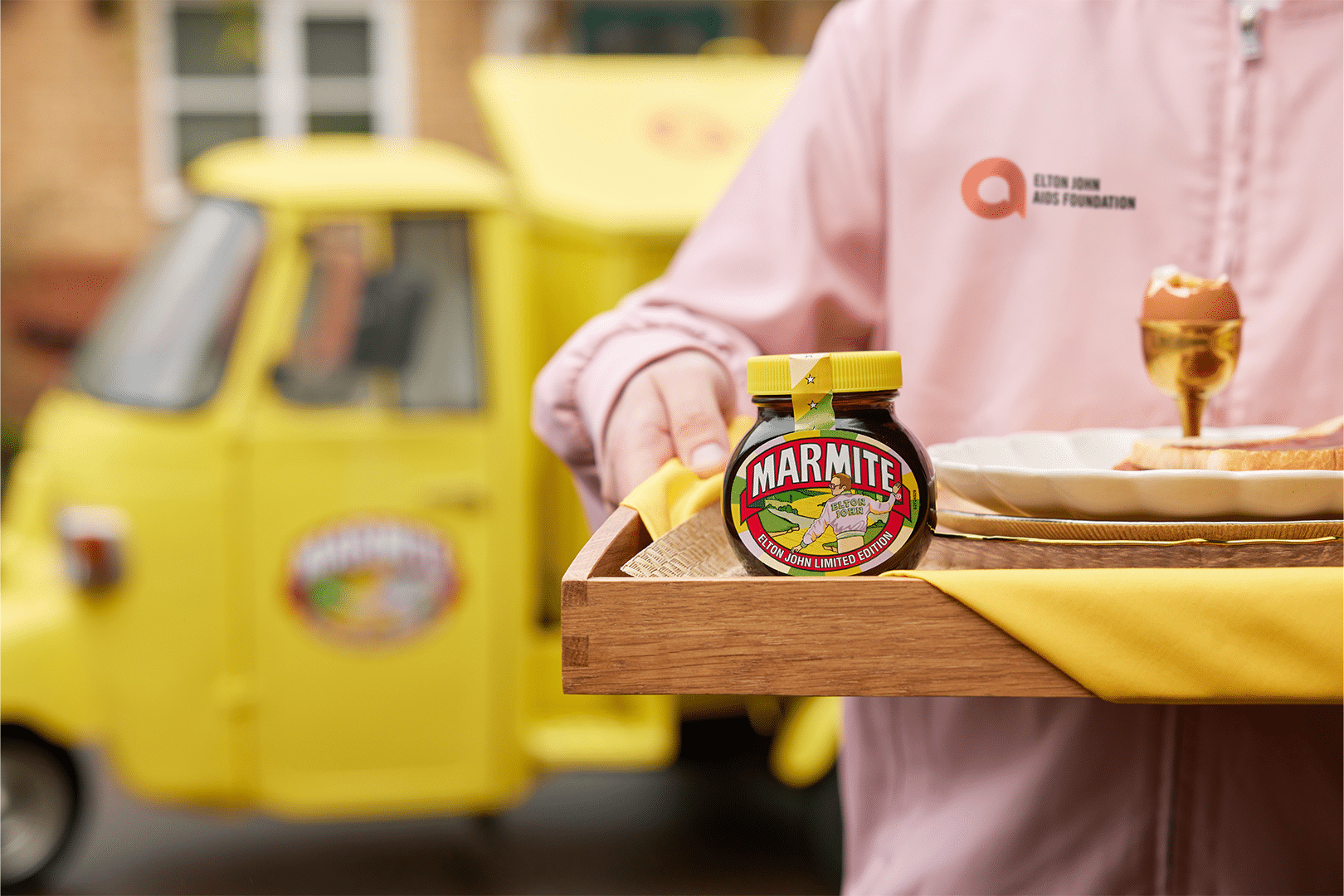 Deliveries will include the 'Goodbye Yellow Brick Road' jar, fresh off the factory line, making some lucky Windsor residents the first in the country to bag the exclusive jars as well as a pair of Elton John Eyewear frames.
Laura Iliffe, Brand Manager of Marmite, said: "We're incredibly proud to announce Marmite's three-year partnership with the Elton John AIDS Foundation – and what better way to begin, than with a showstopping new jar that celebrates one of Elton's most iconic albums. We're confident that Marmite and Elton fans alike will be excited to welcome this new design to their collection and add a touch of glamour to their daily breakfast spread."
The Elton John AIDS Foundation, founded in 1992, is one of the leading independent AIDS organisations in the world. The Foundation focuses on supporting those who are the most vulnerable to HIV and AIDS. Since its beginning, the Foundation has reached over 100 million people with HIV/AIDS education, prevention, treatment, and support, having raised more than $565 million to fund over 3,000 projects across 90 countries.
Anne Aslett, CEO of the Elton John AIDS Foundation, said: "What started as a singular, limited-edition jar in 2022 has evolved into an incredible three-year partnership between Marmite and the Foundation. This jar is not only an homage to Elton's artistic excellence but will also help to raise much needed awareness of our ongoing mission to end AIDS.
"Globally, three new people are diagnosed with HIV every minute and over nine million people are not currently accessing the treatment that could save their lives. With Marmite's generous support, we can continue our work to provide those most at risk of HIV/AIDS with the treatment, care and support they desperately need. Through our partnership we also work together to spread the love and compassion that is needed to break down the stigma standing in the way of ending AIDS for all."
Shoppers can get their hands on the limited-edition jar exclusively at Sainsbury's stores across the UK for a limited time from 6th November.