When Sir Elton John, cultural icon and Founder of the Elton John AIDS Foundation, shared a celebratory birthday photo on social last year, eagle-eyed Marmite lovers were quick to spot an impressive collection of their beloved yeast spread in the background.
What became of this delicious discovery was a collaboration Marmite lovers could never have dreamed of: Sir Elton and his trusty toast-topper coming together to create a unique limited-edition Marmite, all for an important cause. Every Marmite 'Rocketman' jar will see a 50p donation go to The Elton John AIDS Foundation (EJAF), to support its mission to end AIDS by 2030.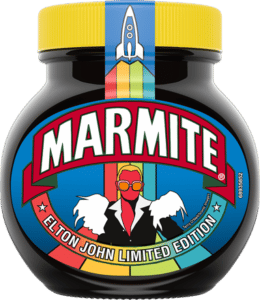 Sir Elton John said: "Whether it's through the work of my Foundation or connecting with my fans on the road, I've always been about spreading love over hate, and I'm happy to do just that with my limited-edition Marmite jar.
"Every jar purchased will also support those most at risk of HIV/AIDS through the work of the Elton John AIDS Foundation. What's not to love?"
Sir Elton is arguably one of the most famous lovers of the devilishly divisive spread, so it was only right to embellish this new collectible jar with his iconic image. Marmite's 'Rocketman' jar is the perfect way to immortalise Sir Elton's love for the umami flavour and offer lovers across the country a tasty memento, too.
Made with the same great taste you know and love (or hate), the jars feature Sir Elton himself and showcases his famously flamboyant style. The labels of the limited supply of 250g jars boast a bold, eye-catching reinterpretation of Terry O'Neill's famous 1973 'Feathers' image of the musician1.
The stars aligned on this new collaboration, with 2022 marking a collection of anniversaries for the dynamic duo: Marmite's 120th birthday, Sir Elton's 75th birthday and the 30th anniversary of the Elton John AIDS Foundation, a charity committed to overcoming the stigma, discrimination and neglect that keeps us from ending AIDS.
The Elton John AIDS Foundation, established in 1992, is one of the leading independent AIDS organisations in the world. The Foundation focuses on supporting people who are the most vulnerable to HIV and AIDS both in the UK and around the world. Since its inception, the Foundation has reached over 100 million people with HIV/AIDS education, prevention, treatment, and support, funded more than 3,000 projects in over 90 countries and raised more than $525 million for HIV/AIDS grants globally.
Georgina Bradford, Nutrition Marketing Director at Unilever, said: "When we spotted Elton's social post last year, showcasing his extensive and enviable Marmite collection, we declared him a true lover within the 'Marmy Army'. Then, we thought what better way to mark this love than to bring two British icons together and raise money for a terrific cause. So, when it came to planning this collaboration, we knew we had to do something extra special that both Elton and Marmite fans would love!
"Marmite and Sir Elton are no strangers to offering up a bold new look from time-to-time, and there's no denying that this rockstar version of Marmite's Original will have everyone dancing over to their local in no time! With this limited-edition launch, we're asking both lovers and haters to put aside their differences and to raise money for an incredibly important charity, that's so close to Elton's heart."
Anne Aslett, CEO of the Elton John AIDS Foundation, said: "The Elton John limited-edition Marmite jar perfectly captures Elton's iconic and bold essence, but also stands for something so meaningful and important. Thanks to Marmite and all Marmite lovers who purchase a limited-edition jar, the Elton John AIDS Foundation will continue to champion human rights, save lives and reduce new HIV infections here in the UK and around the world.
"We knew we had to go with this showstopping look as the one to be reimagined on Sir Elton's favourite spread, and it's safe to say he's delighted to see the final product. What's more, it's offered up a brilliant opportunity to spread awareness for the Elton John AIDS Foundation, which Sir Elton founded 30 years ago. We hope the nation will join us in loving this extra special edition and delve into their pockets for a tasty treat and great cause!"
Shoppers can get their hands on the one-of-a-kind jars exclusively from Sainsbury's stores across the UK for a limited time from 2nd November, for £2.65.